The Best Cell Phone Signal Boosters for MTN Ghana
MTN is the leading provider of mobile telecommunication services in Ghana, with a 57 percent market share, MTN operates in 21 other countries across Africa and the Middle East. MTN recorded 232.6 million subscribers, making it the eighth largest mobile network operator in the world, and the largest in Africa.
You'll get a strong signal if (and a big if) you're getting an excellent signal from the cell tower. However, with insufficient telecommunication infrastructure to reach every area in the country, and multiple users connecting to the same tower chances are you might need some help to improve your MTN signal in Ghana.
But if you're reading this article, and want to know how to improve your poor MTN cell signal, we have the answer you have been looking for.
Introducing our complete of MTN list or signal boosters for your situation:
First, let's explain why you're getting weak signal. Cell phone signals are radio waves that span large distances but are interrupted by almost anything you can think of:
Factors That Affect Cell Signal:
Too many users per cell tower

Trees, hills, mountains, valleys, and tall structures like buildings.

Metal, glass, concrete, brick, radiant barrier, and other conductive material.

Internal building obstructions: Thick walls, other electrical devices, clutter, etc.

Even

the weather.
By the time the signal reaches your cell phone, it's weak and erratic leading to limited coverage and spotty reception. You'll raise your phone in the air hoping to pick up something, hanging on to that one bar of 3G or 4G if you're lucky.
Everything changes with an MTN Signal Booster.
An MTN Signal Booster takes the existing poor signal and amplifies it up to 32X, and then rebroadcasts the boosted signal to an area in need in your home, office or car.
MTN Signal Booster Product Highlights:
NCA Approved. Complete kits, easy to install.
Better coverage: no need to be in a particular spot or do tai chi to get a signal.
No more dropped calls, repeating a conversation, or static-sounding voices
Consistent service: faster internet, uploads, and downloads.
Works for all phones & cellular devices.
No monthly fees, no need to connect to wifi.
Works for all MTN networks. Also boosts signal for Vodafone, AirtelTigo and Busy.
For homes, whether you're in a remote area with an off-the-grid farmhouse, cottage or city with difficult-to-get-signal buildings, our recommended cell phone boosters get the job done. They'll extend your MTN network signal up to 1000m2 depending on your outside signal and amplifier.
Our vehicle signal boosters work for cars, sedans, pick-up trucks, caravans and even boats.
MTN Enterprise signal boosters cover up to 30 000m2 buildings, although it takes a dedicated team of installers and planners to get the absolute best service.
Don't let bad cellular reception get you down - bring the cell tower inside your home! Below are our top recommended Signal Boosters for the MTN network.
---
MTN Cell Phone Signal Booster For Home
OUR PICK - A500 Signal Booster Kit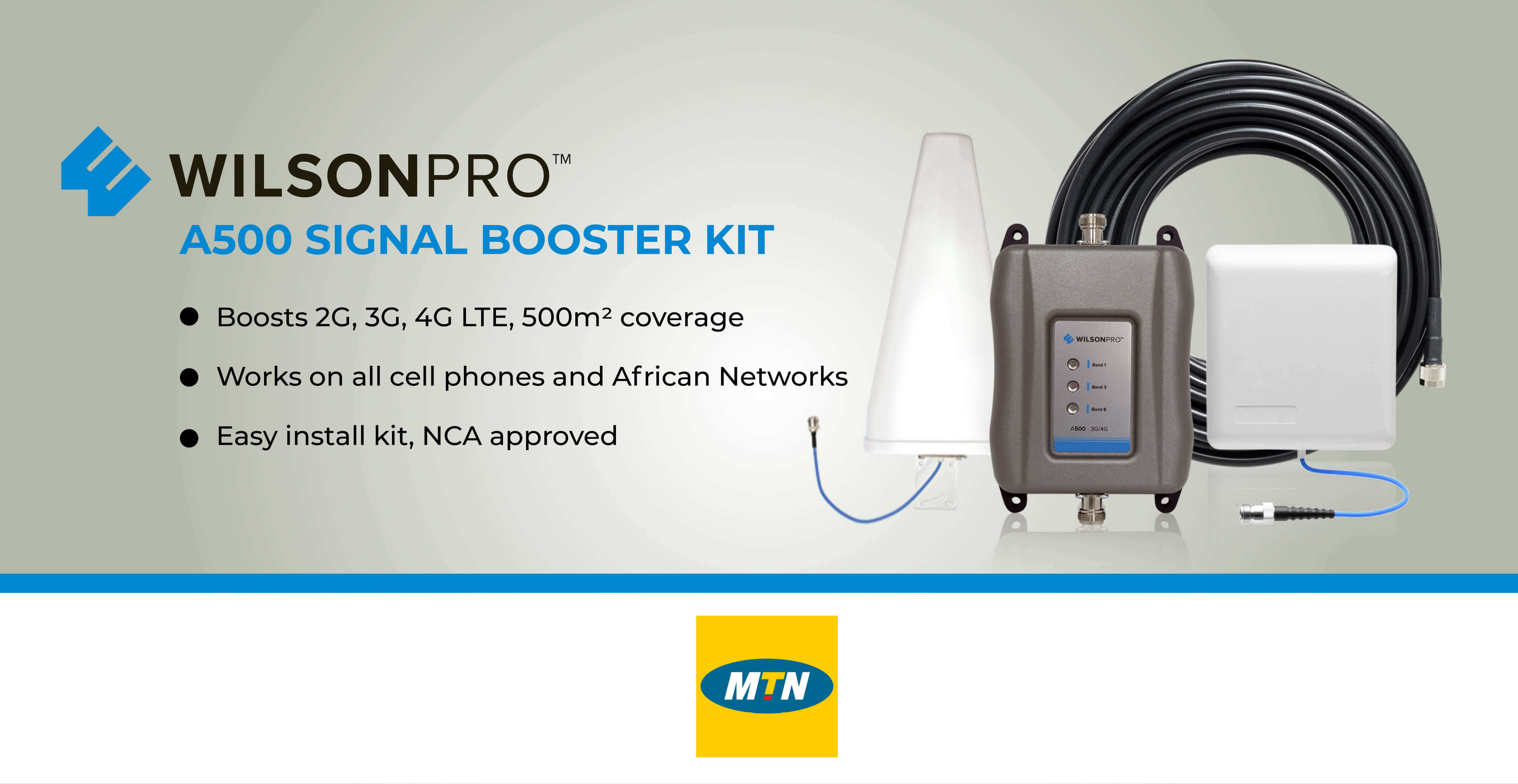 WilsonPro A500 Home Signal Booster Kit Features:


Whole-home coverage:Improves 4G LTE & 3G coverage up to 500m2 (most homes).
Most popular home booster: Trusted by hundreds of people across rural & urban Ghana.
High-powered range:Up to +70 dB gain for 32X stronger signal.
Our Review:
WilsonPro A500 has been the most recommended home booster for years in a row for good reason. It's a dependable performer that covers most homes for better service.
The average home size in Ghana is around 250m2. Under absolute best conditions, the WilsonPro A500 covers up to 500m2 with great outside signal and an open-spaced layout home.
Real-world results and customer reviews put it at 300m2 - 450m2 and a little less for rural areas.
A great option for most homes, small offices, farmhouses, and buildings under 500m2. If you're getting some spotty reception, we'd recommend to start with this first since this tends to be the Goldilocks or "just right" model.
---
MTN Cell Phone Signal Booster For Offices and Large Buildings
OUR PICK - A1000 Signal Booster Kit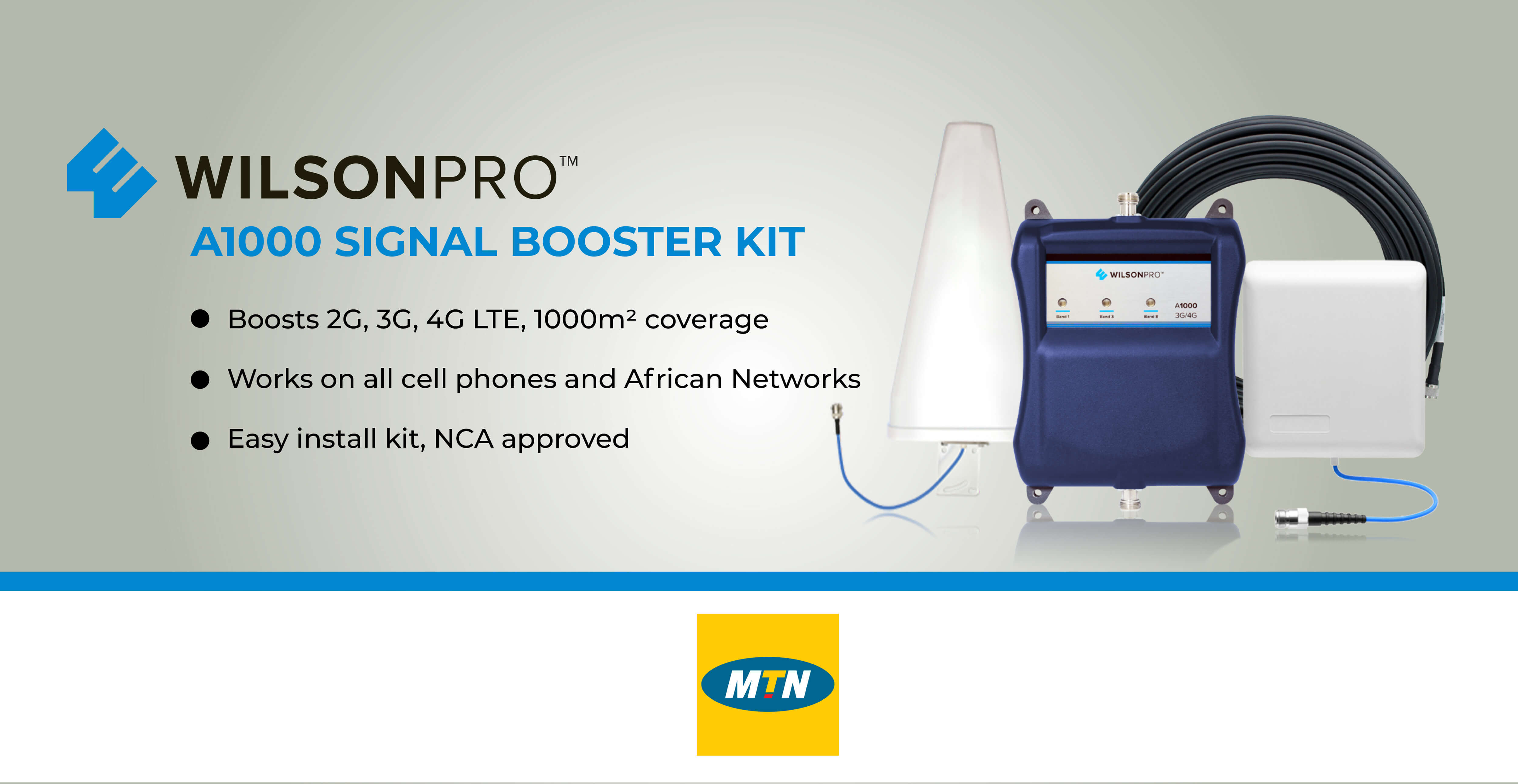 WILSONPRO A1000 HOME SIGNAL BOOSTER KIT FEATURES:
Improves 4G LTE & 3G coverage up to 1000m2 (large buildings).
Trusted by hundreds of thousands of people across remote & urban Ghana
High-powered range: Up to +74 dB gain for 32X stronger signal.
Our Review:
The Wilson Pro A1000 (50 Ohm) from Wilson Electronics is the most popular commercial cell phone signal boosters we currently offer. It features automatic gain control with a self-optimizing design for easy installation & maintenance.
Best-case scenarios can expect coverage up to 1000m2. More likely results can at least expect 750-900m2 even with below-average outside signal. Again, fringe zones can expect a little less.
If you have an extremely poor signal (remote area) or need wide coverage for a building 1000m2 and over like a warehouse, the WilsonPro A1000 is your new best friend.
Only at:
---
Best Passive DAS (Enterprise Cell Phone Signal Booster) Solution
WilsonPro A8000
For Large Commercial Buildings and Large Enterprise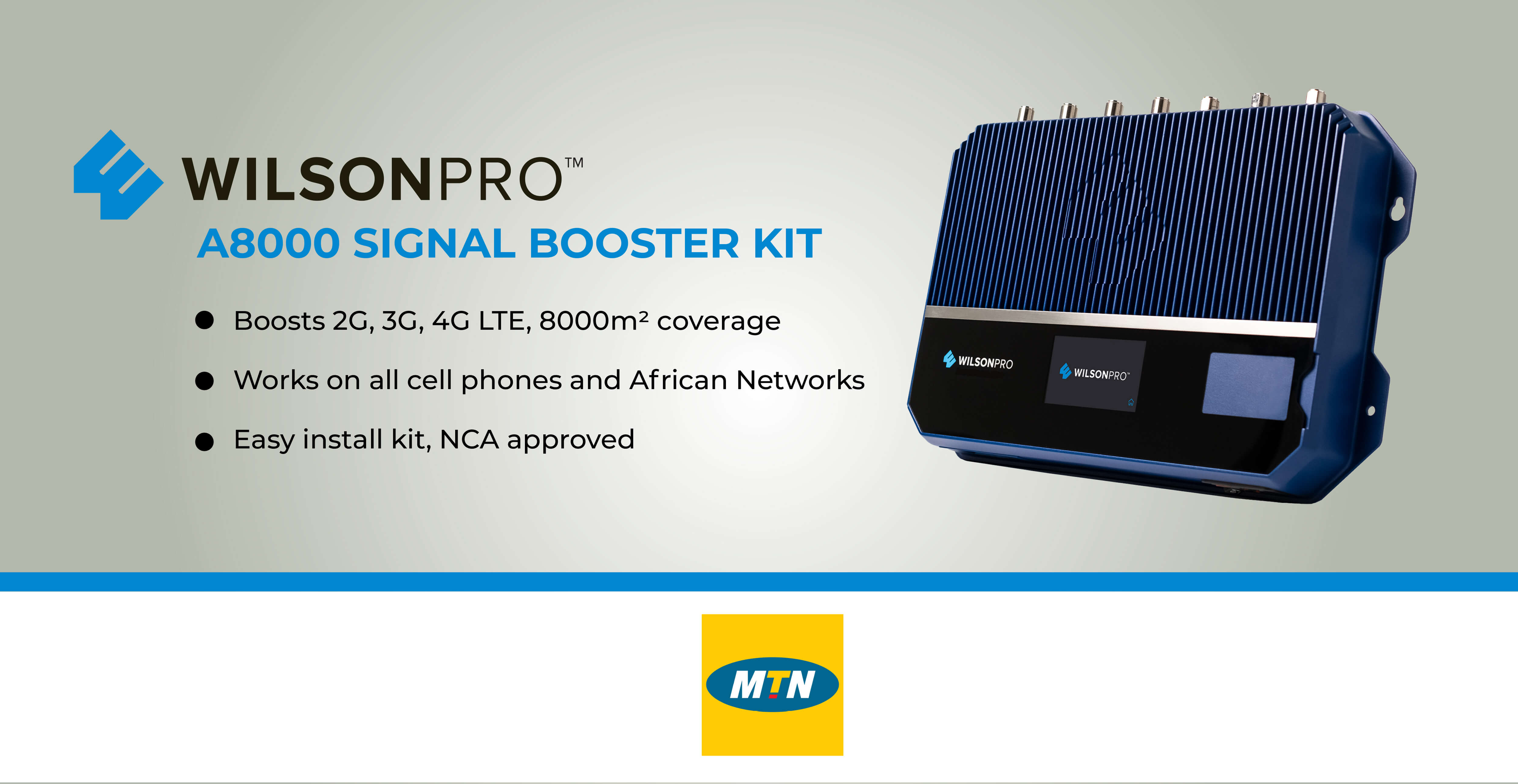 This is a commercial-grade product that requires
EXPERT ADVICE
from professionals.
WilsonPro A8000 Enterprise Features:
Enhances Voice and Data for buildings 8000m²+ for all networks
+70 dB gain and +21 dBm uplink
Four independently controlled indoor antenna ports
Real time performance and wired access to WilsonPro Cloud for remote monitoring
Three outdoor antenna ports to target multiple network towers
XDR technology to virtually eliminate shutdown or signal loss.
4.3-inch LCD touchscreen for an enhanced user-experience.
The WilsonPro A8000
is Wilson Electronics's latest flagship amplifier for the African enterprise market with a maximum gain of +70 dB, +21 dBm uplink and +18dBm downlink power per port. XDR (eXtended Dynamic Range) technology makes it ideal for both extremely rural and extremely urban environments.
With that kind of upload power, it has greater reach than any other booster, allowing it to bring in critical signal from far-away cell towers.
---
MTN Cell Phone Signal Booster For Vehicles
Our Pick: weBoost Drive AM 100-Pro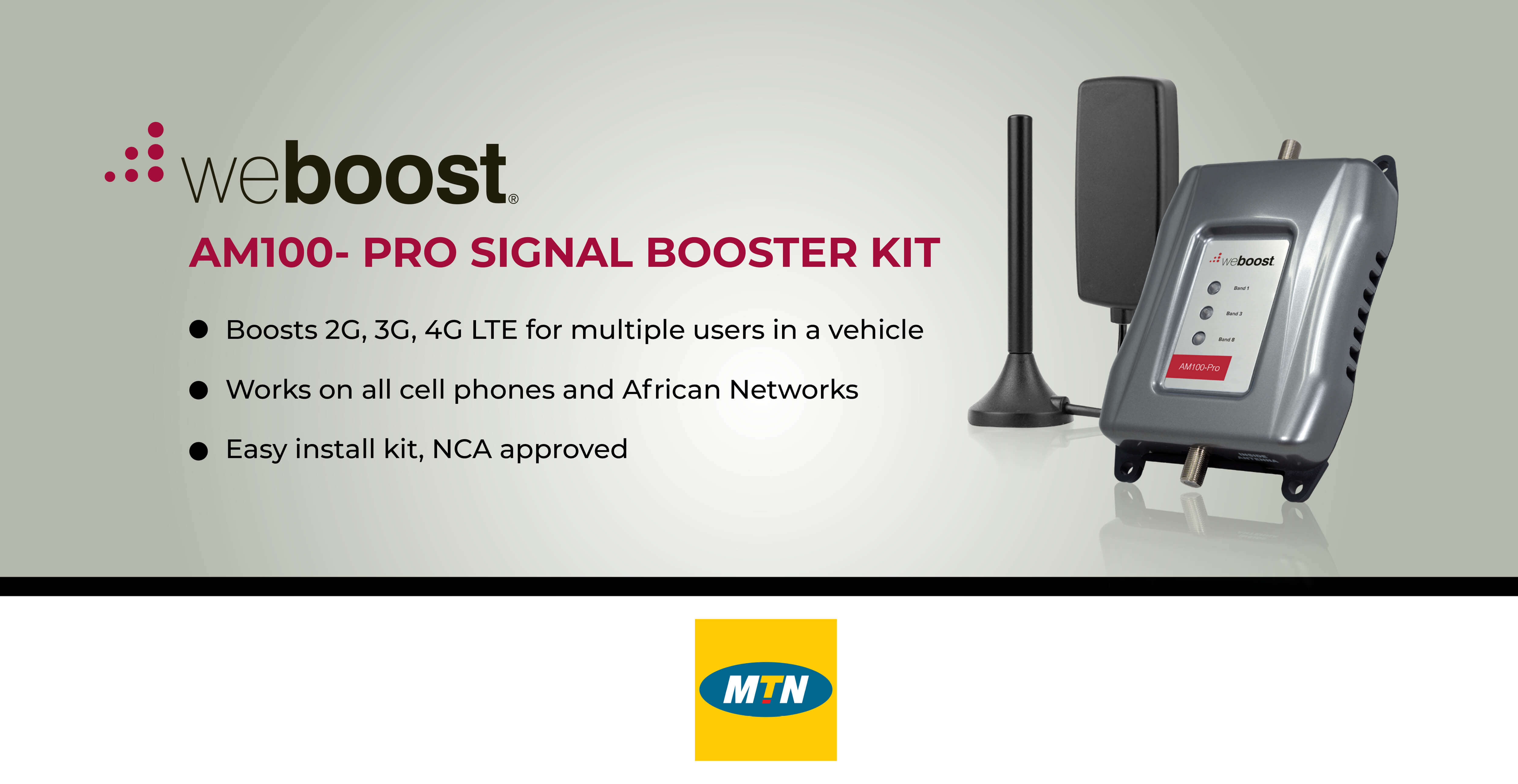 WilsonPro A500 Home Signal Booster Kit Features:*
High-powered range:

Up to +50 dB gain for 32X stronger signal.

Multi-user:

Boosts signal for multiple users in a vehicle
Our Review:
The Drive AM100-Pro is a multi-purpose unit that will work for vehicles, caravans, pick-up trucks and sedans.
This will be the first wide-band vehicle unit in the Ghana market, meaning it will boost 3G and 4G LTE signals for all phones and all carriers.
Visit the product page and join the pre-order mailing list to get notified as soon as the product launches.
---
MTN Cell Phone Signal Booster For Single Rooms
For Single Rooms: Depending on the outside signal, you will get 1 room coverage under best conditions. But you're not here because of best conditions, so it's more realistic to say small office to single room coverage (about 100m2 to 150m2).
A great option for single-office, home office and small areas like cottages and apartments. Good starter kit if you have decent outside signal but doesn't cover the whole home and not a strong performer in rural areas with poor signal.
---
Frequently Asked Questions (FAQ)
Is an MTN Signal Booster the same thing as an MTN Microcell?
No. They're completely different products.
An MTN Microcell needs to be connected to a broadband landline internet to work. In short, it acts as a personal cell tower by converting your broadband landline to cell signals and vice versa.
An MTN signal booster takes your pre-existing weak cell signal and amplifies that 3G & 4G LTE into your home, office, or car. Think of it as a megaphone, it enhances the signal for your phone to pick up.
Which is better? MTN Signal Booster or MTN Microcell?
A MTN signal booster and here's why.
MTN now suggests users connect to WiFi calling instead of installing Microcells.
If you already have broadband landline internet from Surfline, iBust or any internet provider, we recommend going with WiFi calling.
An MTN Microcell is additional equipment you don't need since WiFi calling does the same thing and it's free.
But if you don't have a landline internet service provider nor have access to it–especially rural areas, then an MTN booster is the best choice since it doesn't require any type of internet or WiFi service to work.
It simply reaches farther to the nearest cell tower, bypasses multiple interferences, and brings a stronger signal to your phone.
Will an MTN Signal Booster also improve my MTN hotspot device?
Absolutely.
MTN mobile hotspot routers use 3G & 4G LTE signals, and that's what signal boosters do: enhance 3G & 4G LTE signal!
From any Wireless Internet router, it'll get better signal and speeds, especially if the MTN 4G router has an external antenna port that can directly connect to the MTN signal booster.
Will an MTN Signal Booster work with my MTN phone?
Yes, yes, and yes.
Whether it's an iPhone, Samsung, LG, or any phone, if it's working on the MTN network, then a signal booster will also improve reception to your phone.
What if I switch mobile operators in the future?
Our MTN signal boosters from Wilson Electronics (weBoost & WilsonPro) are multi-network systems. This means they are also compatible with Vodafone, AirtelTigo and Busy and other major and local networks. They are future-proof!
What about MTN 5G service?
The rollout process for 5G in Ghana has already started, but is expected to take another 2-5 years to achieve full scale rollout.
Will 5G make my MTN signal booster obsolete?
Nope.
4G LTE is still being built out across Ghana. In fact, 4G LTE is the backbone of the nation's wireless service. It's not going anywhere anytime soon, AND it's getting faster.
4G LTE is expected to peak in 2030-2035. So...come back in a decade and ask the same question and we might have a different answer by then.
Who are you and how can you help me?
Bolton Technical is a leading provider of cell phone signal boosters, devices that amplify 4G & 3G LTE for any phone with any carrier for home, office, or car.
We've boosted over 1 000,000 sq meter of signal for homes, buildings, and vehicles across America and Ghana.
Free consultation (ask us anything) with our Ghana-based customer support. Email us or

Phone: +27 (010) 157 0190

Fast delivery in main cities

.

30-day (seriously) money-back guarantee

. You want to make sure you're satisfied.
Our goal is simple: keep people connected. Ask us anything and we'll be glad to help.
Keep up with the latest and greatest
We've been doing this for a long time and we like to talk about it. Check out our blogs for all the latest news